Ceva's Quarterly
Newsletters
Ceva's Quarterly
Newsletters
View the most recent news on
Pets' lives are about to change. FELIWAY® OPTIMUM, the newest addition to an already proven lineup, is here to help.
Many of our clients are returning to the offices they left nearly 18 months ago. That will take some adjustments for all of us. For clinics, it means more in-clinic appointments and more…potentially many more…visits from anxious pets as they face a world of being home alone or returning to daily pet daycare for the first time in a long time.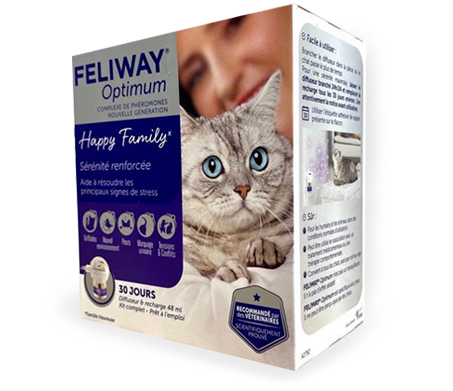 In a recent article in Veterinary Practice News, Dr. Valarie Tynes, DVM, DACVB, DACAW, shared tips on how to help families and their pets as routines are changing.
These include:
If the pet owner knows they will be returning to work within the next few weeks, they should start leaving the pet alone for short periods and then gradually increase the length of time they are left on their own
Every time the pet will be left alone, regardless of how long, owners should offer a special treat. Ideally, it will be something owners only give the pet when they are going to be left alone.
Dog appeasing pheromones create a more calming environment. These are available in several forms such as collar, spray and refill vial with diffuser. The vial attaches to diffusers that can be conveniently plugged into outlets in the area where the dog spends the most time
Recommend that clients slowly adjust their schedule to one they can realistically be able to stick to when returning back to work. For example, begin to stagger your walk times so they end up matching their "back to the office" schedule.
Ceva has a full line of behavior products that can help, including FELIWAY® for cats and ADAPTIL® for dogs. These products have been shown to help alleviate many stress-related behaviors. These products mimic naturally occurring pheromones which give each species a sense of safety and belonging. Pheromone products are a 100% safe and drug-free way to calm stressed pets and help them with their unwanted behaviors.
And just in time for this major change for our pets, Ceva is excited to announce a new addition to the FELIWAY® franchise, FELIWAY® OPTIMUM. With a new pheromone complex, FELIWAY® OPTIMUM can help cats find more serenity in stressful situations. Ask your Ceva rep for more details on this exciting new product.
Help pet skincare from the outside in with DOUXO® S3.
Earlier this year, Ceva Animal Health launched DOUXO® S3, a new range of skincare products for cats and dogs to help them with a variety of itchy and painful skin conditions. The range consists of four groups: CALM, SEB, PYO and CARE. All four contain a new active ingredient derived from Ophiopogon japonicus called OPHYTRIUM™, which has been shown to strengthen the mechanical skin barrier1, restore the balance of protective microbial flora2 and soothe the skin1.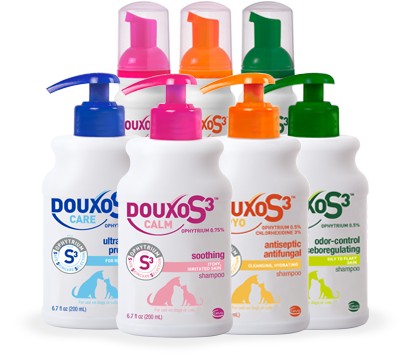 The new range consists of both shampoo and mousse formulations: DOUXO® S3 CALM is designed to sooth itchy, irritated skin while maintaining the skin barrier. DOUXO® S3 PYO also contains chlorhexidine at 3%, which is both antibacterial and antifungal. DOUXO® S3 SEB has anti-odor action and will help with oily or flaky skin. Lastly, DOUXO® S3 Care (available as a shampoo only) is designed for regular use and maintenance.
1) Ollivier E., Zemirline C., Amalric N., et al. (2019). Efficacy of the ingredient A97614A1 in a model of reconstructed human epidermis stressed by cytokines. Proceedings of the 62nd BSAVA Congress, Birmingham, April 4-7th.
2) Ollivier E., Zemirline C., Marchand L., et al. (2019). Effect of the ingredient A97614A1 on the adhesion and biofilm formation of Staphylococcus pseudintermedius in a model of reconstructed canine epidermis. Proceedings of the 62nd BSAVA Congress, Birmingham.
Offer your patients a customized approach to their joint health with Ceva's total pain and mobility solution.
Some pets are more prone to joint issues than others. Some just get older and need more help getting up and around. Whatever the cause, we have a solution to help in a variety of forms that make joint health easy and, most of all, painless.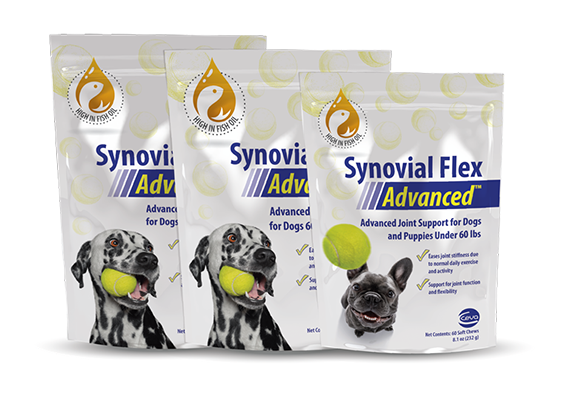 According to the WSAVA Guidelines for Recognition, Assessment and Treatment of Pain, assessing the response to pain treatment/intervention strategies is a fundamental aspect of effective pain management. Too often dogs and cats are given one-off doses of analgesic drugs without effective follow-up. Recommendations include involving the owner in assessing pain and response to treatment through effective open-questioning techniques, undertaking a baseline assessment of the level of pain at the initial consultation, and repeating assessments on a regular basis and all at an appropriate time after treatment.3
New to Ceva's Total Pain and Mobility Solution are Synovial Flex Advanced™ chews and the YOOS™ collar. Synovial Flex Advanced™ is a soft chew specifically formulated to support joint function. Offering enhanced levels of key ingredients: glucosamine HCl, chondroitin sulfate, MSM, EPA and DHA, to provide building blocks for synovial fluid, cartilage and connective tissues. It has the NASC seal which ensures you and your client are purchasing a product that complies with strict guidelines for quality assurance, adverse event reporting and labeling standards. It is also available in Custom Label.
YOOS® is the first and only essential oil collar to help with occasional joint discomfort and stiffness, and maintain mobility. YOOS® collar is impregnated with essential oils (Wintergreen and Moroccan Rosemary oils) selected for their soothing action on joint discomfort. Essential oils in the YOOS® collar polymer matrix are slowly released by body heat for up to 30 days. Pet owners reported a 41% reduction in their dogs discomfort while wearing the collar for 28 days.4 Results were seen within 3 days, with best results at day 28.
3) Mathews K, Kronen PW, Lascelles D, Nolan A, Robertson S, Steagall PV, Wright B, Yamashita K. (2014) Guidelines for recognition, assessment and treatment of pain: WSAVA Global Pain Council members and co-authors of this document: J Small Anim Pract.Jun;55(6):E10-68. doi: 10.1111/jsap.12200. Epub 2014 May 20. PMID: 24841489.
4) Tested with 33 dogs in 2017. Scores were based on the Canine Brief Pain Inventory, measuring consumers perception of their dogs discomfort and the impact on daily life.