Ceva's Quarterly
Newsletters
Ceva's Quarterly
Newsletters
View the most recent news on

Questions About Managing Canine Heart Issues? We can help.
Canine mitral valve disease can be challenging. You hear the murmur, but what does it mean and what is the new standard of care for these dogs? What does murmur intensity have to do with disease and when should you initiate diagnostics? How comfortable are you with management of the preclinical mitral valve disease dog? When is an echocardiogram critical and when can a radiograph suffice? When should you prescribe medication?
The answers to these questions might surprise you. Learn all this and more from the expert who literally wrote the Textbook of Veterinary Internal Medicine and the first-ever veterinary textbook on canine cardiology
– Dr. Stephen Ettinger, DVM, DACVIM (SAIM, Cardiology).
VIEW THE STUDY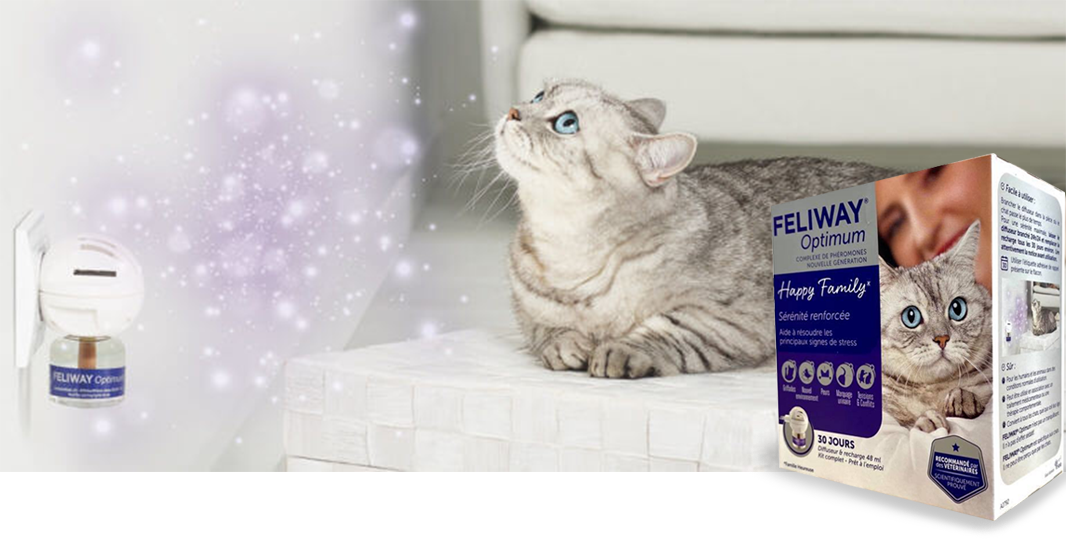 Understanding Cat Stress: Just What Is Your Client's Cat Thinking?
As veterinarians, you do everything you possibly can to make sure our cat has a safe and comfortable life – but are our perceptions of what is happening the same as our cats? Do we really know what our sleek feline friend is thinking or feeling? It's important that we can recognize when our cat is feeling super relaxed, playful, or even stressed.
There are many things that are challenging for a cat, but to humans, these are often just normal activities that we encounter on a day-to-day basis. Although cat owners don't mean to, they might not be taking their cat's feelings into consideration and, as a result, may be causing stress for their kitties.
Let's look at some Cat vs. Human Points of View (POV) from different households to see how they differ!
Changes Around The Home:
Human POV: I think that cupboard would look nice in that other corner. If I move it, it would mean I could reach that shelf and put some nice photos and plants up there. But I wonder why Bella (my cat) seems unsettled. It looks as though she has peed in that corner!
Cat's POV (Bella): Meow! What have they done? They've moved that cupboard from my favorite spot. It was just in the right place and I could hide behind that big plant which was on top. It was also a great jumping station so that I could leap onto that shelf; I like to have high-up spots where I can go to feel safe. I do feel stressed when things aren't where they should be – I don't like changes!
Changes in Routine:
Human POV: Thank goodness! Lockdown seems to be coming to an end. That means we can go back to the office. Things look as if they might be nearly normal again! It's been quite difficult adjusting to working from home, but Cherry, our cat, seems to have taken it all in her stride.
Cat's POV (Cherry): What a difficult time this period has been for us cats too… Before this horrid virus struck, I was very content with my life; I had a lovely daily routine and then it all changed! Everyone had to stay at home, and it did change my life, though my humans obviously were not aware of how it affected me.
Did you know that in a recent study, 20% of owners felt that lockdown had been stressful for their cats? Fortunately, though some very thoughtful humans used FELIWAY® and 70% said it helped their cats.1
As a happy cat, I am glad to say that my human has recently become one of those who use FELIWAY®, after they read about how the past year has been difficult for cats! And I have to say, I do feel much calmer when I'm in the same room as my FELIWAY® Optimum diffuser!
A New Cat in The Home:
Human POV: We love our cat so much, we've decided we will adopt another one! Our lovely resident cat, Lunar, could do with someone to play with.
Cat's POV (Lunar): What? Do I hear another cat in the house? What's going on – this is my territory, and I don't like sharing it with other cats! My kitty friend who lives next door, Tabatha, did not like it when her humans brought a new cat home. She spent a lot of time hissing at Twiggy (their new cat) and hiding at the top of the cat tree – where the new kitty couldn't reach and there was a lot of urine spraying going on while they were getting used to each other.
I'll try to get along with the new cat, but I hope my humans make sure that the new bundle of fluff has its own bed, and its own toys and bowls. That cat has got to learn who's the top cat around here! But I notice there's a new diffuser in the room – FELIWAY® Optimum – and I'm already feeling much more serene! Maybe it won't be so bad after all!
People Visiting:
Human POV: I'm really looking forward to my family and friends visiting us soon, but I hope my feline friend is going to be more friendly this time. The last time we had visitors, Frank just disappeared into the bedroom upstairs and didn't come back until everyone had gone! It's very strange because my friends are cat lovers themselves and would love to pet him and make a fuss of Frank.
Cat's POV (Frank): I remember the last time when my human's friends visited – they were very nice (I suppose) but they would insist on picking me up and holding me tight. I find that quite threatening so that's why I don't like visitors. This time I'm not taking any chances and I will disappear under the bed for a while when I hear them arrive.
People should realize that us cats like to make the decisions about interacting with you! If people ignore me, I might wander over to them to investigate and even rub myself along their leg, leaving my scent on them. I quite like a head or a chin rub, but if I don't ask for more please leave me be. And let me stay on the ground – if I want to sit on someone I'll jump up and find my own position— thanks! Think about using FELIWAY® Optimum to help your kitty feel more relaxed and serene when there are visitors as we can find new situations a bit stressful.
Hiding from Unexpected Noises:
Human POV: I can't understand why Cherry scoots away when I'm doing the washing. One minute she's hiding in the laundry basket and the next minute she's run upstairs and hidden under the bed!
Cat's POV (Cherry): Although the laundry basket is usually a nice quiet spot, sometimes I think my human forgets that we have super sensitive hearing! Whenever I see them sorting out the whites from the colors, I know what's coming – she's going to put the washer on and it's going to be very noisy, so I'm off to find another hiding spot where I can't hear the noise!
It's the same on fireworks night; there are so many different bangs, flashes and bright lights, and I don't know where they are coming from next. My human is particularly thoughtful on fireworks night though, and she gets me prepared for the noise by closing all the doors and curtains and she turns the TV volume up a bit so that the noise is masked. My human uses FELIWAY® Optimum too and it really helps me feel more relaxed and serene.
1.) Ceva Sante Animale, FELIWAY Community Survey, 2021

Tick Prevention is the Cornerstone of Lyme Prevention: A Case Study
(Free Sign-in Required)
Tick prevention is the cornerstone of a multimodal Lyme borreliosis prevention plan. Careful selection of an ectoparasiticide based on mode of action is needed for ideal protection in endemic regions. Protecting dogs from tick-borne diseases like Lyme borreliosis requires blocking the transmission of the pathogen. Products that repel and kill ticks on contact reduce the likelihood of a blood meal and the risk of transmission of pathogens like Borrelia burgdorferi. A recent hypothetical case study published by Clinician's Brief looked at two scenarios.
VIEW CLINICIAN'S BRIEF
Pets' lives are about to change. FELIWAY® OPTIMUM, the newest addition to an already proven lineup, is here to help.
Many of our clients are returning to the offices they left nearly 18 months ago. That will take some adjustments for all of us. For clinics, it means more in-clinic appointments and more…potentially many more…visits from anxious pets as they face a world of being home alone or returning to daily pet daycare for the first time in a long time.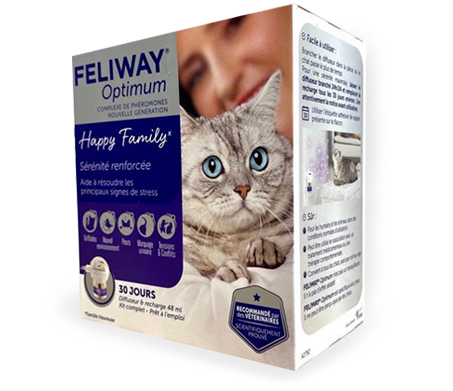 In a recent article in Veterinary Practice News, Dr. Valarie Tynes, DVM, DACVB, DACAW, shared tips on how to help families and their pets as routines are changing.
These include:
If the pet owner knows they will be returning to work within the next few weeks, they should start leaving the pet alone for short periods and then gradually increase the length of time they are left on their own
Every time the pet will be left alone, regardless of how long, owners should offer a special treat. Ideally, it will be something owners only give the pet when they are going to be left alone.
Dog appeasing pheromones create a more calming environment. These are available in several forms such as collar, spray and refill vial with diffuser. The vial attaches to diffusers that can be conveniently plugged into outlets in the area where the dog spends the most time
Recommend that clients slowly adjust their schedule to one they can realistically be able to stick to when returning back to work. For example, begin to stagger your walk times so they end up matching their "back to the office" schedule.
Ceva has a full line of behavior products that can help, including FELIWAY® for cats and ADAPTIL® for dogs. These products have been shown to help alleviate many stress-related behaviors. These products mimic naturally occurring pheromones which give each species a sense of safety and belonging. Pheromone products are a 100% safe and drug-free way to calm stressed pets and help them with their unwanted behaviors.
And just in time for this major change for our pets, Ceva is excited to announce a new addition to the FELIWAY® franchise, FELIWAY® OPTIMUM. With a new pheromone complex, FELIWAY® OPTIMUM can help cats find more serenity in stressful situations. Ask your Ceva rep for more details on this exciting new product.
Help pet skincare from the outside in with DOUXO® S3.
Earlier this year, Ceva Animal Health launched DOUXO® S3, a new range of skincare products for cats and dogs to help them with a variety of itchy and painful skin conditions. The range consists of four groups: CALM, SEB, PYO and CARE. All four contain a new active ingredient derived from Ophiopogon japonicus called OPHYTRIUM™, which has been shown to strengthen the mechanical skin barrier1, restore the balance of protective microbial flora2 and soothe the skin1.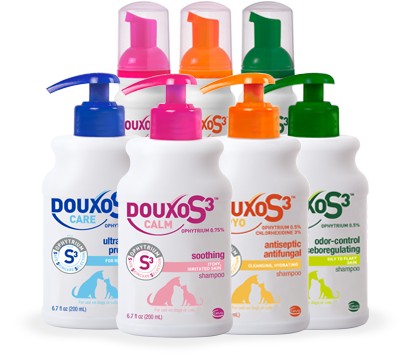 The new range consists of both shampoo and mousse formulations: DOUXO® S3 CALM is designed to sooth itchy, irritated skin while maintaining the skin barrier. DOUXO® S3 PYO also contains chlorhexidine at 3%, which is both antibacterial and antifungal. DOUXO® S3 SEB has anti-odor action and will help with oily or flaky skin. Lastly, DOUXO® S3 Care (available as a shampoo only) is designed for regular use and maintenance.
1) Ollivier E., Zemirline C., Amalric N., et al. (2019). Efficacy of the ingredient A97614A1 in a model of reconstructed human epidermis stressed by cytokines. Proceedings of the 62nd BSAVA Congress, Birmingham, April 4-7th.
2) Ollivier E., Zemirline C., Marchand L., et al. (2019). Effect of the ingredient A97614A1 on the adhesion and biofilm formation of Staphylococcus pseudintermedius in a model of reconstructed canine epidermis. Proceedings of the 62nd BSAVA Congress, Birmingham.
Offer your patients a customized approach to their joint health with Ceva's total pain and mobility solution.
Some pets are more prone to joint issues than others. Some just get older and need more help getting up and around. Whatever the cause, we have a solution to help in a variety of forms that make joint health easy and, most of all, painless.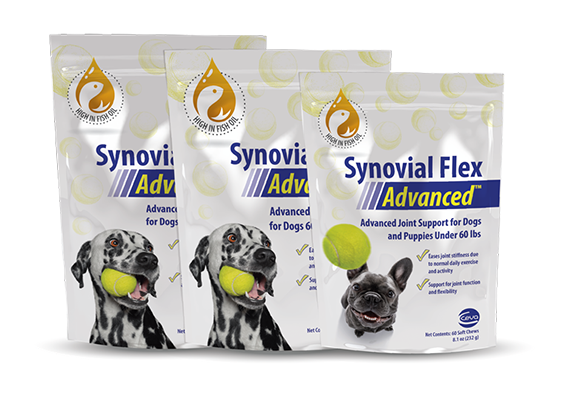 According to the WSAVA Guidelines for Recognition, Assessment and Treatment of Pain, assessing the response to pain treatment/intervention strategies is a fundamental aspect of effective pain management. Too often dogs and cats are given one-off doses of analgesic drugs without effective follow-up. Recommendations include involving the owner in assessing pain and response to treatment through effective open-questioning techniques, undertaking a baseline assessment of the level of pain at the initial consultation, and repeating assessments on a regular basis and all at an appropriate time after treatment.3
New to Ceva's Total Pain and Mobility Solution are Synovial Flex Advanced™ chews and the YOOS™ collar. Synovial Flex Advanced™ is a soft chew specifically formulated to support joint function. Offering enhanced levels of key ingredients: glucosamine HCl, chondroitin sulfate, MSM, EPA and DHA, to provide building blocks for synovial fluid, cartilage and connective tissues. It has the NASC seal which ensures you and your client are purchasing a product that complies with strict guidelines for quality assurance, adverse event reporting and labeling standards. It is also available in Custom Label.
YOOS® is the first and only essential oil collar to help with occasional joint discomfort and stiffness, and maintain mobility. YOOS® collar is impregnated with essential oils (Wintergreen and Moroccan Rosemary oils) selected for their soothing action on joint discomfort. Essential oils in the YOOS® collar polymer matrix are slowly released by body heat for up to 30 days. Pet owners reported a 41% reduction in their dogs discomfort while wearing the collar for 28 days.4 Results were seen within 3 days, with best results at day 28.
3) Mathews K, Kronen PW, Lascelles D, Nolan A, Robertson S, Steagall PV, Wright B, Yamashita K. (2014) Guidelines for recognition, assessment and treatment of pain: WSAVA Global Pain Council members and co-authors of this document: J Small Anim Pract.Jun;55(6):E10-68. doi: 10.1111/jsap.12200. Epub 2014 May 20. PMID: 24841489.
4) Tested with 33 dogs in 2017. Scores were based on the Canine Brief Pain Inventory, measuring consumers perception of their dogs discomfort and the impact on daily life.