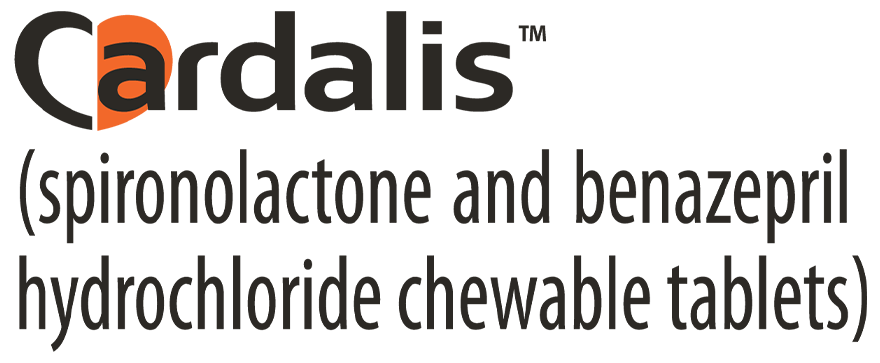 CARDALISTM is the safe, FDA-approved, once-a-day, unique combination for the management of congestive heart failure (CHF) in dogs. Studies show that CARDALISTM is more effective than an ACE inhibitor alone with fewer cardiac deaths, treatment failures, and signs of CHF*. A chewable combination of spironolactone and benazepril hydrochloride, CARDALISTM provides an easy, palatable way to accomplish quadruple therapy for CHF (as recommended by the ACVIM** in the 2019 consensus guidelines for the diagnosis and treatment of MMVD in dogs).
*Coffman M, Guillot E, Blondel T, et al. Clinical efficacy of a benazepril and spironolactone combination in dogs with congestive heart failure due to myxomatous mitral valve disease: The BEnazepril Spironolactone STudy (BESST). J Vet Intern Med. 2021;35(4):1673-1687. doi:10.1111/jvim.16155
**Keene, BW, Atkins, CE, Bonagura, JD, et al. ACVIM consensus guidelines for the diagnosis and treatment of myxomatous mitral valve disease in dogs. J Vet Intern Med. 2019; 33: 1127– 1140. https://doi.org/10.1111/jvim.15488
Important Safety Information: Do not administer in conjunction with non-steroidal anti-inflammatory drugs (NSAIDs) in dogs with renal insufficiency. Do not use in dogs with hypoadrenocorticism (Addison's disease), hyperkalemia or hyponatremia. Do not use in dogs with known hypersensitivity to ACE inhibitors or spironolactone. The safety and effectiveness of concurrent therapy of CARDALIS™ with pimobendan has not been evaluated. The safety of CARDALIS™ has not been evaluated in pregnant, lactating, breeding, or growing dogs. CARDALIS™ administration should begin after pulmonary edema is stabilized. Regular monitoring of renal function and serum potassium levels is recommended. Common side effects from a field study include anorexia, vomiting, lethargy, diarrhea and renal insufficiency.